12th January, Kolkata, 2023: The 24th CABLE TV SHOW 2023 Kolkata – one of the largest trade shows on digital cable television, broadband and OTT in India and the Saarc region – today paid rich tributes to Swami Vivekananda on his 160th Birth Anniversary at the Cable TV show and observed the National Youth Day with a live model as young Swami Vivekananda who was the cynosure of all eyes on the second day of the Show which drew record crowds.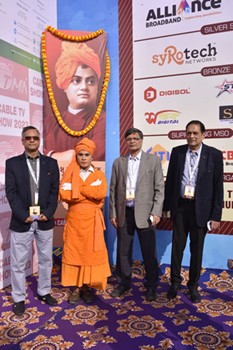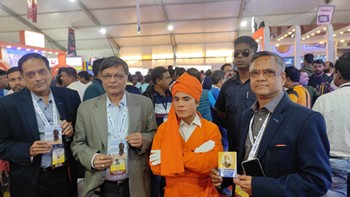 Mr Pawan Jajodia, Chairman Exhibition, Mr K K Binani, Secretary and Mr Rajendra Prasad Agarwal, Vice-President, of Cable TV Equipments Traders & Manufacturers Association (CTMA) distributed booklets on Swami Vivekananda's preachings to the visitors.
The latest technologies, products, solutions and services would be showcased during the three days. More than 10,000 cable operators, MSOs and representatives, traders, manufacturers, channel partners, distributors, broadcasters and Multi-System Operators (MSOs) from across India and overseas are expected to visit the CABLE TV SHOW 2023. Many seminars, quizzes, promos, B2B meetings take place on the sidelines of the Show. Also, eminent citizens of Kolkata, VIPs and celebrities from the entertainment world visit the Show.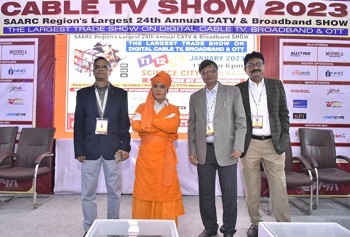 CTMA members Mr K K Binani, Mr Pawan Jajodia and Rajendra Prasad Agarwal of CTMA at the Cable TV Show 2023 with a live model of Swami Vivekananda paid tributes to Swamiji on his 160th Birth Anniversary.
---
Cable TV Show 2023 Kolkata 3-Day Mega Exhibition Takes Off